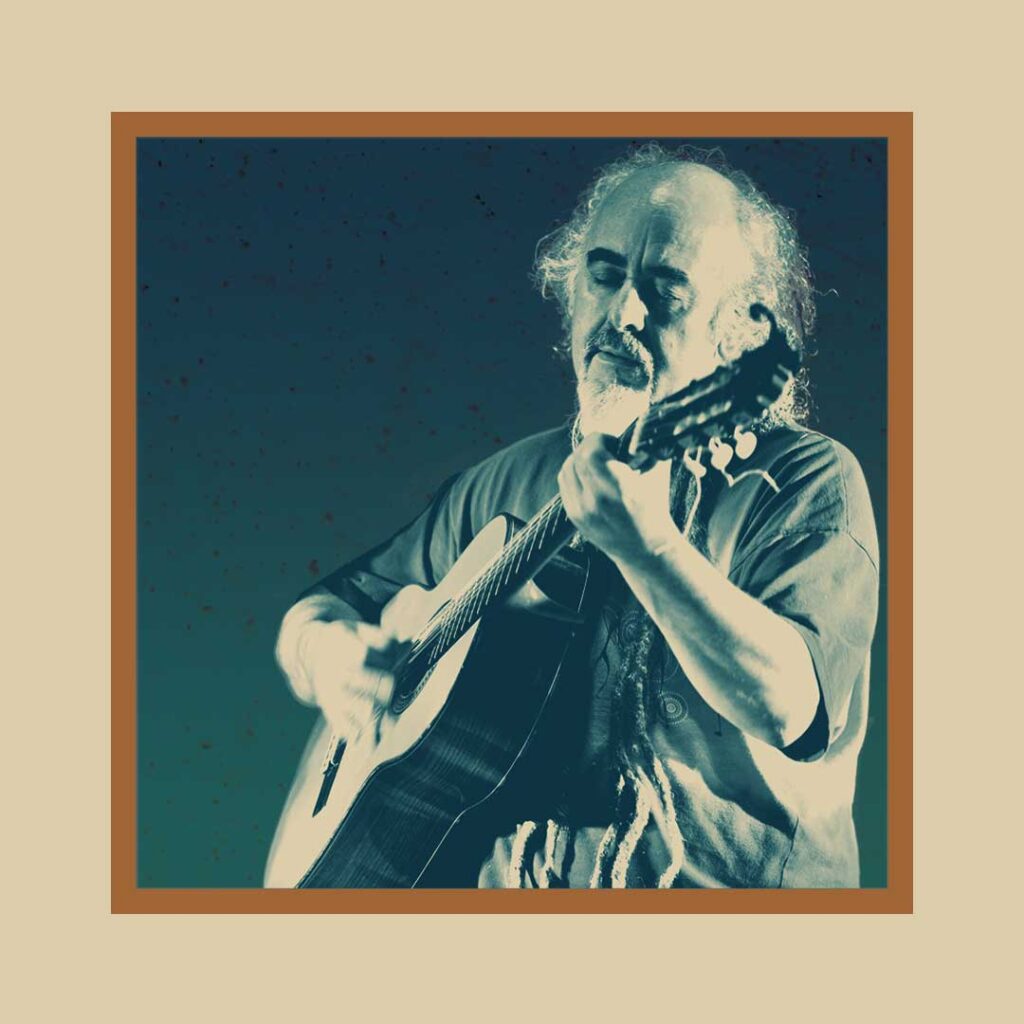 Steve Cooney is best known for his development of an influential style of guitar accompaniment to traditional Irish dance music which he developed in West Kerry, and  for which he won the National Entertainment Award with Séamus Begley in 1997.
Born in Melbourne Australia in 1953, he came to Ireland in 1980 and maintains his connections with the Aboriginal culture there, into which he was initiated. He has ancestral links with Tipperary, Cavan and Galway.
He has participated in making more than 250 CD's, either as a guitar or bass player or as producer and engineer. Also a poet and songwriter, he has worked with many iconic international artists in rock and country music  but his primary focus is Irish traditional music, and fusions of that genre.
He recently released a CD of solo guitar interpretations of ancient harp tunes, Ceol Ársa Cláirsí: Tunes of the Irish Harpers for Solo Guitar.  He is also recording fusion music with his band Éiníní.
He completed a Ph.D. in 2018 at NCAD on an intuitive musical notation system that he developed for early learners and those who experience difficulties with staff notation, and he lectures in tertiary institutions on the calculation of harmony and syncopation. 
In 2020 he was given the RTÉ Folk Awards 'Lifetime Achievement' Award.
He is currently preparing the release of the CD 'Rhapsody and Rascality' with his band Éininí.
Tá iomrá ar Steve Cooney mar gheall ar an stíl tionlacain giotáir atá forbartha aige do cheol rince na hÉireann. D'fhorbair sé an stíl sin in Iarthar Chiarraí agus bronnadh National Entertainment Award air féin agus ar Sheámus Ó Beaglaoich in 1997.
Rugadh Cooney i Melbourne na hAstráile in 1953 agus tá nasc aige go fóill le cultúr bundúchasach na tíre sin. Bhí baint ag a shinsear le Tiobraid Árainn, Co. an Chábháin agus Gaillimh, agus tháinig sé féin go hÉirinn sa bhliain 1980. Bhí baint aige le breis is 250 albam a thaifeadadh, agus é ar an ngiotár, ar an dordghiotár, mar léiritheoir nó mar inealltóir fuaime. Is file agus cumadóir amhrán é freisin, agus d'oibrigh sé le go leor ceoltóirí iomráiteacha rac- cheoil agus ceol tíre thar na blianta, ach is é an ceol traidisiúnta Gaelach, nó cumaisc de sin agus cineálacha eile ceoil, an seánra is mó a bhfuil sé luaite leis.
D'eisigh sé an t-albam aonair, Ceol Ársa Cláirsí: Tunes of the Irish Harpers for Solo Guitar, le déanaí, ina ndearna sé a leagan féin ar an ngiotár de sheanphoirt na cláirsí. Tá ceol cumaisc á thaifeadadh aige faoi láthair freisin, lena ghrúpa, Éiníní, agus eiseofar albam nua leo, 'Rhapsody and Rascality' go luath.
Bhain sé Ph.D. amach ó NCAD sa bhliain 2018, inar dhírigh sé ar chóras nodaireachta ceoil atá forbartha aige féin d'fhoghlaimeoirí óga agus do dhaoine a mbíonn deacrachtaí acu leis an gcliathnodaireacht. Bíonn sé ag léachtóireacht in institiúidí tríú leibhéal ar chúrsaí comhcheoil agus rithime. Sa bhliain 2020, bronnadh Gradaim Saoil air ag RTÉ Folk Awards.